Web/Mobile Design
Responsive Web Design (RWD) is a spontaneous attribute that resizes and molds your website to mobile devices like smartphones & tablets for a highly useful browsing experience.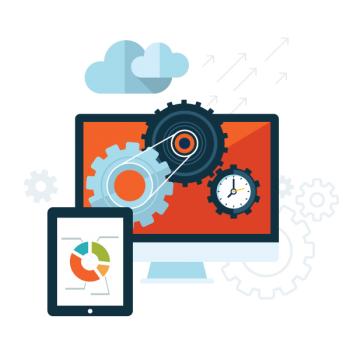 Did you know that it takes just about a fraction of seconds for online visitors to make a judgment on how well a website is? The design and look of the website enables the visitors to figure out whether the site is professional and dependable or not. At Emarkepedia World Wide, our website design crew is ready to help you.
In order to build great a reputation in the market, having an amazing looking website is a smart move. An innovatively designed, well-organized and attractive website increases the popularity of any business and adds integrity to the business. We at Emarkepedia World Wide offer comprehensive, custom website to many businesses. Whether you need a website for desktop, mobile or tablet, we have a complete solution for you.
When you hire Emarkepedia, what you expect from us –
Complete functional website for mobile phones, tablets, smart phones, laptop and desktop, etc.
Customized solutions to our respected clients for web design and build.
Responsive, dynamic web designs that hit mobile users across the globe.
Massive web traffic and online popularity.
Custom design for all gadgets including iPhone, smart phones, iPod and more.
Hence we know that a majority of online users use mobile phones for looking for any information will certainly increase in the near future and will beat laptop and desktop computers. It is an evidence of emerging need for responsive web designs and build. By hiring our top-notch web design services, you can promote your business and can increase its sales and revenue.

Emarkepedia World Wide is a top Website Designing and Search Engine Optimization company in Dehradun, Uttarakhand, India. We are Best SEO company in Dehradun. Emarkepedia offers Best and affordable Website Design & SEO Services. We are the Best service Provider of Website Development, SEO & SMM, Company in Dehradun, Uttarakhand, India. We also provide services like Digital Marketing, E-Commerce Website Development, Email Marketing, Lead generation, Content Writing.
Web/Mobile Design Packages
3-5 PAGE
MOBILE FRIENDLY WEBSITE
GRAPHICS & BANNERS
WEB FORMS
FAST LOADING WEBSITE
TESTED WITH MOBILE USER EXPERIENCE
7 WORKING DAYS
PRICES ARE EX VAT
5- 20 PAGE WEBSITE
WORDPRESS CMS
MOBILE FRIENDLY WEBSITE
GRAPHICS & BANNERS
DATA BASE SET UP
AUTO RESPONSE WITH EMAIL
FAST LOADING WEBSITE
TESTED WITH MOBILE USER EXPERIENCE
12 WORKING DAYS
PRICES ARE EX VAT
20 - 50 PAGE WEBSITE
WORDPRESS CMS
MOBILE FRIENDLY WEBSITE
GRAPHICS & BANNERS
DATA BASE SET UP
AUTO RESPONSE WITH EMAIL
FAST LOADING WEBSITE
TESTED WITH MOBILE USER EXPERIENCE
1 MONTH FREE SEO & SOCIAL SET UP
1 MONTH FREE EMAIL NEWSLETTER DESIGNS
20 WORKING DAYS
PRICES ARE EX VAT
Tell us about your project
Let us help you get your business online and grow it with passion