Search Engine Optimization
SEO offers a visible and effective search presence which leads to a considerable increase of sales, profitability, and cost efficiency for our clients.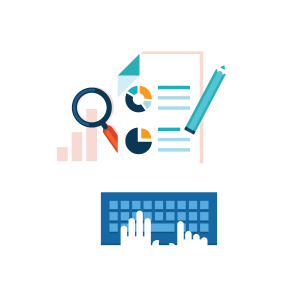 Search Engine Optimization
The SEO is a tactic that entails appropriate approaches, techniques and procedures to catch the attention of a good number of visitors to a website. It is the most important part of any digital marketing venture. Search engine optimization is a process of producing huge traffic towards a website. The more online users you attract, the improved is your sales and profit. This process entails definite strategies and techniques that assist with the visibility of your work.
At Emarkepedia, we provide an ample solution that includes design, integration, content research and creation, social media marketing and more keeping in mind market competition.
We understand Google
With years of experience and knowledge, we understand Google and its algorithms. We have a rich knowledge of Penguin, Panda and Hummingbird, etc. that makes SEO even more innate to build a technically great website. We don't just focus on the increasing online popularity of your website, we are responsible for your online reputation.
SEO is not a static and requires constant testing that versions of a page magnetize more customers. Our experts keep an eye on Google Analytics and bing Ads to analyze and pick-up your rank and online popularity. We work with a complementary approach and dedicated towards the success of our clients. We put our level best so that you can find your website in the top results.
Being an SEO expert, we deal with every detail minutely and work the necessary mechanisms with the guarantee to provide great results to the clients.
Ring us to gather details about our SEO packages.
Ring us to gather details about our SEO packages.
+91-875-568-0385
HOW DO WE GET YOU ON TOP?
Search Engine Optimization (SEO) is a term much similar to a process of creating goodwill for an engaging brand at local ground.
Goodwill takes years; it's a cyclic process of hard and smart work on building, managing and monetizing from your brand.
We introduce and promote your brand ensuring that technology, design, content and other compatibility factors consistently meet Google's defined quality bar.
We focus on multiple testing sessions before we let you test the upper limits . As consultants you can expect us keeping a bird eye and a ground level check for your brand over the web.
Know more on how we can assist you with your Web Branding!
Tell us about your project
Let us help you get your business online and grow it with passion
"A special thanks to Emarkepedia for taking over a difficult job and making the end result look fantastic. We heartily recommend Team Emarkepedia." "Emarkepedia - A consciously coordinated unit, that functions on a relatively continous basis to achieve a common goal or set of goals." This amazing team managed to get us to top positions on Google for our top keywords and kept us there! I would highly recommend this company to anyone! Gabriel Townsend
Quality Realty Service
This amazing team provides a constant flow of new leads, and gives us all the tools to convert those leads to customers. Naomi Crawford
Admissions director
Is Search Engine Submission Necessary?
The simple answer is no - search engine submission isn't necessary. The majority of search engines nowadays (most notably Google) crawl and index pages by following links. Using that logic, a single inbound link from any already-indexed page will identify your page to the engine.
What's The Deal With Paid Search Submission?
Many SEO companies offer paid search submission. But don't get sucked in. It doesn't cost a penny to get indexed by the major search engines. Therefore, it shouldn't cost you anything either. In fact, you don't even need to submit your site to the search engines.
Can Any Inbound Linking Hurt My Ranking?
The answer is clear and simple - inbound linking cannot hurt your search ranking. How is this known for certain? Well, for one, if inbound were to hurt your rank, your competitors would continually link to your site from link farms. Such a scenario is beyond your control. For this reason, Google cannot penalize your site for any inbound linking.
Are Blogs Good for SEO?
Whether blogs are good for SEO purposes is actually irrelevant. The content is key. Blogs are simply a publishing mechanism. Having said that, the ability to produce high quality content on an ongoing basis can be made much easier by leveraging blog software - especially for the for non-technical user.
How Do I Make My Site Search Engine Friendly?
Often, the best way to make your site more search engine friendly is to simply add more text. The content must add value and be on topic, but the addition will create a new set of keywords and phrases for the search engines to crawl. Think of these terms as new 'gateways' for the engines - the injection of text will provide new doorways for traffic.
Some  additional question about SEO here?
For this reason, inbound linking is very important. In fact, acquiring back-links may be the most important of SEO. In theory though, a website owner shouldn't have to 'scout' or 'hunt' for links. If the presented content is of interest, useful, and/or important, there is a natural tendency among web users to link to information.
To maximise SEO output for our clients we also incorporate powerful medium like Social Media Marketing, Unique Content Writing, Search Engine Marketing, Mobile Development, Mobile Marketing and Email Marketing.
Know more on how we can assist you with your Web Branding!